Why is it called a "PET" scan
PET is the abbreviation for the type of radiation we use: Positron-Emission Tomography.
What should I bring?
Documentation: Bring along your medical Aid card and ID. Bring all previous scan reports if you have copies.
Bring all cd's with images on or hard copy films from previous or other scans.
Bring comfortable clothing like pajamas if you want to.
Bring a list of the chronic medications you are on.
Bring along any pain relieve medication or stress-related medication if you are using any.
You can eat as soon as the scan is completed – so you are welcome to bring a beverage or food for eating afterwards.
What will happen during the PET/CT investigation?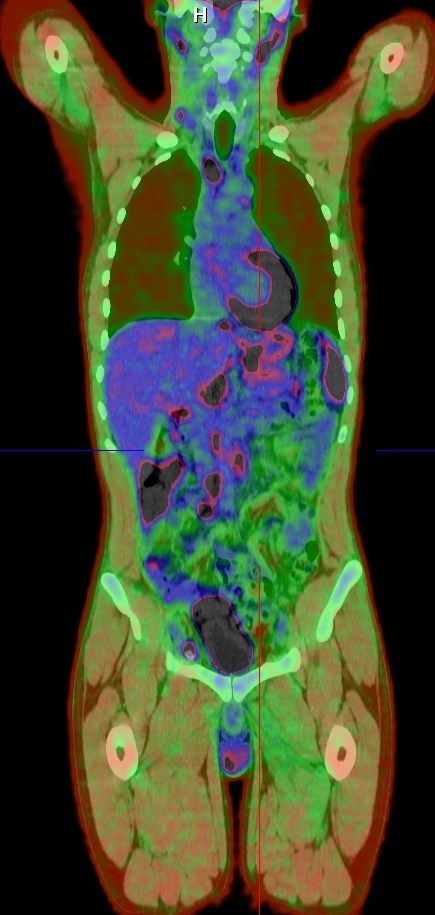 You report to reception on arrival.
If you are a new patient you will have to complete a patient information form. If you are a follow-up patient you will be asked to check your patient information form and correct any change of address or other change in personal detail.
You will have a consultation with the reporting physician – either before or after the scan. This consultation is only to check your clinical history . Please inform the doctor of any surgeries you had in the past or any relevant information they might need when they interpret your scan. Do not hesitate to give them any information as this is vital for the reporting process.
Your weight is important in the calculation of your dose. We will weigh you.
The PET/CT staff will place a small intravenous line for administration of the radioactivity.
Your blood pressure, pulse and blood sugar level will be tested.
If all of these are within acceptable levels we will continue with the investigation.
We may ask you to take a tablet before we start to improve our image quality – but this will be decided by the attending doctor.
We will then administer the radioactive sugar. The injection does not have any side effects.
After this injection you must wait 60 minutes for it to be taken up into all the cells of the body. You will be placed in a special waiting room with other patients. We want you to be comfortable while waiting and have magazines available. You can listen to music on your phone/ipod/other devices with earphones. There is water and a toilet in the waiting room. Once you are injected you are not allowed to leave the waiting room. No pregnant females or children are allowed in the waiting room with you. If you need assistance your caregiver can stay with you.
After this time period is over we will ask you to empty your bladder. The radiographer will check that you are correctly dressed and will position you as comfortable as possible for the scan on the scanning table.
The scan takes 15 – 25 minutes depending on varying factors. You must lie still during this investigation for the images to be of satisfactory quality.
When all the images have been acquired, one of our staff members will help you off the bed. You can then go back to the waiting room and you can now have something to eat or drink.
Your results WILL NOT be available immediately. It will be completed by the next (work)day at 12h00. The report will be send directly to the doctor who referred you for the PET scan.
Why do I need to fast on the day of the PET scan?
We want all your cells to be "hungry" for the "sugar" that we inject. We will do a blood glucose test to make sure you are not a diabetic and that your levels are within normal limits.
It is a good idea to follow a high protein low carb diet 3 days before the PET scan. This will prepare your body for the uptake of the radiotracer and put you in the right metabolic state for the scan. You will also find that you will not be as hungry on the morning of the scan.
Drink plenty of water on the morning of the scan to ensure that you are well hydrated. It will make it easier to find your veins.
If you had breakfast by accident – the scan results cannot be trusted and the Nuclear Medicine Physician will most probably request a re-scheduling of the appointment. This will have great cost implications on our and your behalf.
How long will I be at the PET centre?
It is advisable that you do not make any other appointments on the day of the PET/CT scan. It is very difficult to predict the exact time you will spend at the PET centre, because the dose is delivered to our centre fresh every morning. Traffic permits we can start on time. Difficult venous access or claustrophobic or very sick patients can all contribute to a delay in the time of injection. Please be patient as we try to keep everything on schedule. It would be best if you are not in a hurry. Bring along a good book to read.
It should ideally take about 2 – 2.5  hours.
There can also be technical or hardware failures. We want to assure you that due to the nature of this scan we have excellent teams on standby to respond as quickly as possible to any problems on site.